Rising year 7 Help & Support
Welcome to The Downs School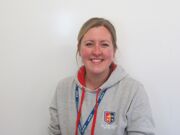 Hello,
Welcome to this section of our website which contains lots of useful information about starting secondary school and all about life as a Downs School student.
My name is Mrs Holbrook and I am the Transition Leader, so I am responsible for making sure that you have all the information you need before you start with us. I also teach PE. It is a difficult time at the moment, but I really hope to be able to meet you either at your school or here at The Downs School before you start in September.
In the meantime I know that you may well have a lot of questions about all sorts of aspects of starting secondary school. I would encourage you and your parents to look around this section of the website – and the other pages on our website - which should hopefully answer some, if not all of your questions. However if you still something you want to ask, please do email us at the following address and we will get back to you transition@thedownsschool.org
Please be reassured that despite the current situation we will do all we can to help you before you start here with us. Keep visiting the website regularly as we will be updating the content and posting online activities for you to take part in.
In the meantime, enjoy looking around the website and please find below a couple of resources to watch with your parents that you may find helpful. Please be aware that all secondary schools are different, but the videos contain some useful information. We would also invite you to watch the video we have put together which tells you all about our school. Please click here to view.
https://www.bbc.co.uk/bitesize/tags/zh4wy9q/starting-secondary-school/1
https://www.place2be.org.uk/our-services/parents-and-carers/getting-ready-to-start-secondary-or-high-school/
I look forward to meeting you.
Kind regards
Mrs Holbrook