Focus on Catering
Posted on: 29th Nov
Welcome to a new series of articles called 'Focus on,' where we take you behind the scenes at The Downs School and introduce key members of our team. Having recently formed a School Nutritional Action Group (SNAG) - a joint committee of parents and staff working together to review and improve our school food culture - we introduce Mrs Barefoot our Catering Manager, who alongside her team, produces freshly cooked, nutritionally balanced food for our students in the school's on-site kitchen.
Mrs Barefoot has been leading the catering team since 2009 and is passionate about ensuring that the school produces good quality food that not only tastes great, but also offers balanced nutrition and makes lunchtime an enjoyable experience for the students.
"We are a team of eight who all work well together and love what we do, it really is a team effort every day to ensure that we offer a wide variety of food to our students at break and lunchtimes. In addition, we have just started offering a range of breakfast Mrs Barefoot options to students in Café 6 each day.
We are given guidelines from the Government about the menu we can offer in school, and from this, we have a book of recipes that we cook daily from scratch using fresh local produce. The menus are changed three times a year; New Year to Easter, post Easter to the end of the Summer term and then from September through to Christmas. We do have the freedom to make changes to the menu on a weekly basis, but having worked in the school for 12 years, I have a good understanding of what our staff and students like to eat, which influences what we produce.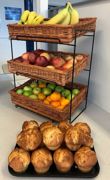 A key role for my team is to make sure that the menu we offer strikes a balance between what the students like to eat and what we know sells, and ensure that nutrition wise we offer a broad and balanced menu. The idea behind this is not to make the students think that they do not have a choice in what they eat, but to make sure the choices that are available to them are as healthy as they can be so they can make the right choices from a nutritional perspective. We always have a wide range of food available every day and we believe that this also encourages students to try something they hadn't thought of eating before.
We use local fruit, vegetable, and meat suppliers, who we have great relationships with and try and use seasonal produce as much as possible. We make practically all our food on site each day, including sandwiches and all our hot meals. We also cater for all dietary requirements and if we don't have something on site, we always try and get hold of it. The introduction of 'Natasha's Law' means that everything we make on site must list any allergens alongside the ingredients. This helps our students with allergens.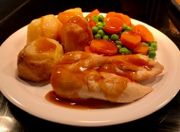 The school has recently set up a SNAG (School Nutritional Action Group) made up of school personnel and parents, which is essentially a working party to help review the school food culture and develop an action plan to help make improvements. This has been a great opportunity to work with parents', so they understand more about the catering service we offer at school.
Essentially, my role is to educate staff and students that food is not the enemy, and in eating a balanced diet, food is to be enjoyed. As they say, a school marches on its stomach and my team and I are confident we are achieving that.