Headteacher Blog - 17 December
Posted on: 17th Dec
Congratulations to everyone for reaching the end of term! The pandemic has meant it has continued to be a difficult and challenging few weeks, but I am proud of how the students and staff have continued to remain positive, demonstrating a 'business as usual' approach. The students fully deserve to have a good rest over the Christmas period, I hope you are your families have an enjoyable break too. As you are aware, we have a return to COVID testing at school in the new year, you will have received a letter detailing the timetable and the Government requirement for lateral flow testing at school the day before students return to school. Ahead of the new term, we will be testing two year groups a day at school over a three-day period. The dates are as follows:
Tuesday, 4 January – Years 7, 8 and 9
Wednesday, 5 January – Years 9, 10 and 11
Thursday, 6 January – Years 12 and 13
This will result in a staggered start of term for students in Years 12 and 13. Remote learning will be in place for these year groups via TEAMS. Finally, as the situation with the Omicron variant is ever changing, we will of course keep you informed over the Christmas break if there are any changes to the plans currently in place.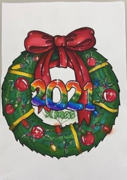 The last few weeks of term are always very busy and one highlight for me is judging the annual Christmas card competition. We have such talented artists here at school, and visitors often comment on the high standard of artwork that we have displayed around the building and in the art department as they are walking around. I would like to congratulate all those who entered, particularly Year 8 student Matthew B, whose winning design (see left) has become the school's official Christmas card this year.
Our recent House Dance event was a huge success, although we were disappointed, as I am sure you were, that we were unable to invite parents and friends into school to watch it. The performance was the culmination of many hours of rehearsals involving many different dance styles across different music genres. Our BTEC Production students were instrumental in ensuring the smooth running of the event, and Miss Duckham said she was extremely proud of "the leadership qualities displayed and the support and teamwork that the students all gave each other."
Our Year 11 students have recently completed their mock exams and Head of Year 11, Mrs Wilding said that she was proud of her students. "The Year 11 mock week was a great success and testament to all the hard work and effort the students put in," she said. "In the lead up, the level of focus and revision was phenomenal, many students took the opportunity to utilise the revision rooms provided at lunch on a daily basis – which was lovely to see! After some initial practice learning our alphabets to ensure we were in the right seats, the week went off without a hitch and I'm so proud of the whole year group. It was very clear the whole year group recognised the importance of mocks and the impact they have on their learning and progress, I hope that they will carry this forward for the rest of the year. I really look forward to the mock result assembly on 21 January and seeing the smiles on students' faces when they see how well they have done."
The Year 13 mock exams will take place between Monday, 10 and Friday, 14 January. Letters have already been sent home to parents, but can I remind you that because these are taking place in 'Week A', some students may finish exams after the school day has ended and will therefore need to arrange transport home.
We have many talented students at The Downs School who regularly demonstrate our CREARCI values. I would like to share with you some incredible student stories I have been made aware of, starting with Year 12 student Polly C, who received an award this week from the Royal Lifesaving Society after her heroic actions last summer saved a lady's life. Polly spotted a lady who was unconscious in the water at Beale Park in Pangbourne. Polly pulled her out of the water, performed CPR, and her bravery, quick thinking and first aid skills undoubtedly saved that lady's life. What a courageous act of bravery, we are delighted and incredibly proud that Polly has been recognised for her heroic actions.
Our students are also continuing to achieve great successes in sport and other leisure pursuits outside of school, I am delighted to tell you that Year 12 student Olivia D recently won a Bronze medal at the British Judo Junior Nationals in Sheffield. She has now been confirmed as a member of the Great Britain Junior squad. This is a fantastic achievement and is testament to her talent and hard work. She was recently awarded her black belt too. Congratulations Olivia, we look forward to following your future successes.
It has been a tough few years for performing arts, but Izzy C has continued online all through the pandemic with Italia Conti (a theatre arts school). Her resilience, hard work & determination paid off; On 27 November, she sang her first solo in front of a 200+ audience at the Italia Conti Christmas Show. She performed 'He lives in you' from the Lion King with fantastic power, stage presence and confidence. A fantastic achievement and I can't wait to see her perform in one of our productions, hopefully in the not too distant future.
Congratulations also to Year 11 student Cara H who last year identified a need in the local community of people struggling to afford to buy sanitary products. She began producing essential 'period boxes' that were donated to her local foodbank and distributed to those in need. Since then the campaign has gathered so much interest and support, that she and her Mum have set up a community interest company and have sent out more than 4,600 boxes of sanitary products. What a fantastic achievement and what a fantastic example of the school values of 'ambition, responsibility and creativity' in action. Well done Cara. Please continue to tell us about these successes, as we enjoy being able to share them with everyone in school community.
Before I end the final blog of 2021, I would like to say a huge thank you to my incredible staff. They continue to amaze me with their dedication, resilience and ability to remain firmly focused on providing the best experiences possible for all our students, despite all the continued challenges for COVID. They are all truly inspirational.
Finally, I would like to thank you for all your support this year and your continued assistance in these challenging times. It is very much appreciated by the whole team here at The Downs School, and I wish you all a very Merry Christmas and a Happy New Year.
Mr Prosser
Headteacher